I've been working as a web designer for years, and I had to learn how to code and create a website from scratch. That's why it's painful for me to say that nowadays, the best way to create a web site, is through web builders.
If you're looking for one, I strongly suggest you choose Elementor, and in this video, I'll give you 10 reasons why it's the best web builder on the market in 2019.
The reason for my choice
Before I get into the 10 points, let me explain why I chose Elementor among all the other web builders and why you should trust me on this.
As I said, I started my career as a web designer, and through the years, I've used all the web builders you may think of: Clickfunnels, Leadpages, Squarespace… and many others you probably never heard of like iGloo and Jimdo.
It was my job to test and review them.
Elementor is the only one that has a positive score in all the categories that makes a web builder worth the money.
Features, support, usability, and performance.
So let's start with the first one, that is usually the elephant in the room.
1. Price
How does Elementor cost and is it worth it?
First of all, Elementor has a free trial you can use.
But you decide to go on with the premium version, I suggest you go with the unlimited plan that costs $199 per year.
It's astonishingly cheap cause you can use it on unlimited websites and just selling a single web site for a client, you already repaid your license.
If you instead want Elementor just to work on your website, 49$ per year sounds like a great deal to me.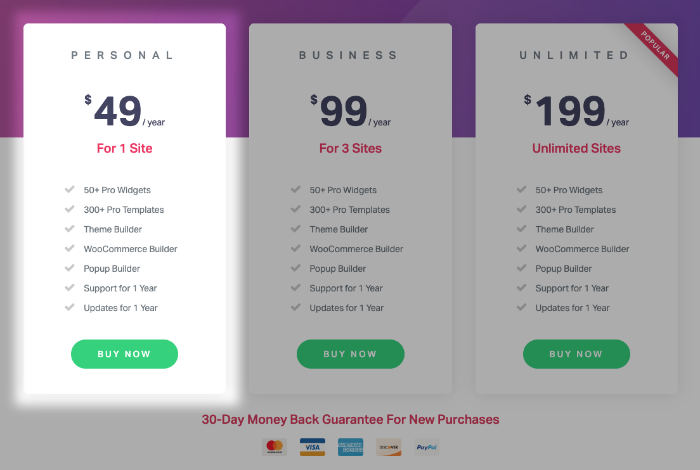 2. Usability.
Learning how to use Elementor is a piece of cake. The drag and drop system is the most intuitive I've seen so far, and you can create an entire website with less than an hour.
It makes me cringe thinking about all the years I studied HTML and CSS.
3. Templates
If you have the design taste of a turtle, don't worry, Elementor comes with an incredible number of templates.
The great thing about it is that you can even choose precise elements to put in your design, instead of copying a complete template.
I personally have 3 templates that I use for all my affiliate pages, and if you want to download them, click on the banner below. Feel free to add them to your WordPress website and customise them as you wish.
4. Variety of elements
On the sidebar, you can find all the objects you may think of.
Starting from the essential elements as buttons, social icons, up to elaborate elements like carousels, price tables, countdowns, image galleries…
After years I've been using it, I still find objects that I didn't know where there.

5. Responsive design
Elementor allows you to create website 100% responsive, meaning your site will look great on all devices including desktops, mobiles, and tablets.
You can customise every single object based on the page size, using an incredibly intuitive method to switch from a resolution to the other.
6. Full Revision History
If you use Photoshop or anything similar, you know what I'm talking about. Elementor has a full revision history. It's a column with all the previous versions of your page, based on the actions you've taken.
You can simply revert to an earlier version at any time, and this saves a lot of stress in case you made a mistake on your design.
7. Endless Customization Options
Everything on your page, and I mean everything, can be customised. You can manage the width and height of the sections; resize columns; set your content position to the top, centre, or bottom; set padding and margins; etc.
There is no room for frustration.
8. Third-party integrations
The extreme popularity of this web builder, made other developers create free add-ons which can improve or add to the functionalities already present in Elementor.
The variety of external add-ons is specifically something I've never found in another web builder.
On this topic, I've created a pdf where I listed the 5 best FREE add-ons you can integrate on Elementor. I've added the link to download this pdf in the description below this video.

9. Totally integrated with WordPress
WordPress allows you to create a blog and with Elementor you can personalise every design aspect of it. This is an incredible step ahead for everyone has problems using WordPress templates and don't know how to code in PHP, HTML and CSS.
10. The team behind Elementor
Last but not least, the people working on it. Elementor got this famous, cause the tech team publishes weekly updates, fixes and integrations.
The continuously work to improve the system and add new features based on feedback from their user base.
Plus, the Facebook group is particularly vibrant. There you can network, showcase your designs, access tutorials, blogs, and other useful resources.
That's all.
Everything you need to do now to prove I'm telling the truth is to put your hands on the Elementor trial and decide by yourself if it's the tool you'll use over and over in 2019.

Question of the day, "What's the point you liked the most among the ones I laid down?"
And if I didn't address the reason why you love Elementor, write it below.