In the past years, passive income became an online obsession for countless entrepreneurs who wanted to quit their 9-to-5 jobs and still maintain economic stability.
The dream of "making money while sleeping" mostly created frustration and desperation, so let's start with the fundamental question.

Is passive income a real thing?
And if yes, how is possible to achieve it?
Keep reading cause you'll find all the answers.
Passive income is real. What's not real is the myth that creating a passive income system is an easy and quick process.
Building a system that brings you a continuous stream of income needs three things:
Especially if you're in a 9-to-5 job, time and motivation will be an immediate problem cause they're both finite. Investment is another issue when you'll find out you'll need tools that aren't free.
What you need to solve this equation is a long-term plan.
You need a schedule of daily activities that lead to a bigger goal in 3 months, 6 months, 1 year.
What you see below is the plan I adopted to build my business while spending most of my day in another job.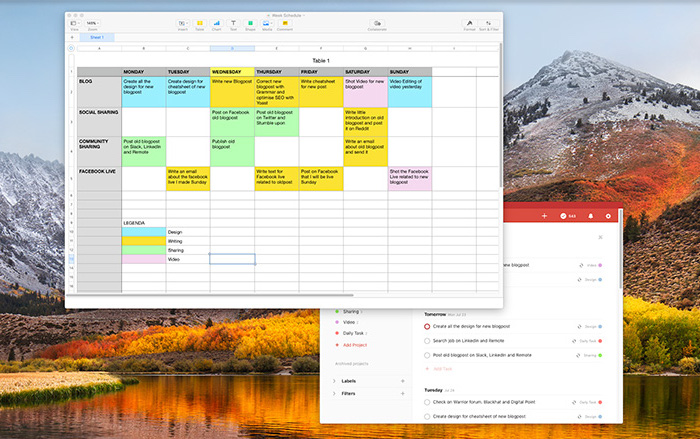 I knew I didn't have much time to invest in my project, and I was aware my motivation wouldn't stay high for a long time.
So I created a list of daily activities that would lead to a goal.
Passive Income Strategies
There are many solutions to create a passive income system like recurring payment services, affiliate marketing, e-learning…
In this article, I'll talk about the one that worked for me.
My 3 mains sources of revenue come from 1-on-1 coaching, group coaching and online courses. The first two are linear incomes, means that I exchange my time for money.
The third is what you could call residual income. I get paid for work I've done in the past (in this case pre-recorded video lessons) at a lower price cause it doesn't request my presence.
Online courses are the best method I found for my business to get continuous income that doesn't require my time and presence.
But I know your objection now: where can I continuously get new customers?
Do I need to keep promoting my courses and my brand?
The answer is no!
It's curious how online entrepreneurs always choose the complicated way to reach their audience, spending months building their email list, guest blogging, developing their youtube or podcast channel…
Don't get me wrong, all these things are great, but they should be part of step 2.
Step 1 is just about getting customers, and to find them, you need to go where customers already are. In my case, those places are called "learning platforms".
Learning platforms are portals where coaches can upload their courses, and reach an extended user base eager to access new content.
One of the most famous course platforms is called uDemy, and it has millions of active students in a wide range of niches.
How Learning Platforms Work
All you need to do is uploading your course there (video or text lessons) and uDemy will do all the rest. It will promote your stuff with coupons, Facebook ads, emails to their subscribers… That in exchange for a percentage of your course price.
The more your course will sell, the more uDemy will promote it, the more positive feedback you'll receive, the more customers you'll gain.
Clearly, you won't make much with a single course, and getting traction will take time, but here's the little secret.
uDemy isn't the only learning platform on the market.
There are many Course platforms on the web, and they all work in the same way uDemy does. That means that if you post your same course on all of them, you'll receive income from each of these platforms.
If you want to know which are the 10 platforms I use to upload my courses and get passive income, I created a PDF where you can discover the entire list.
You can download it at this link.
[thrive_2step id='902′]

[/thrive_2step]
Limiting beliefs
If online courses are the easiest way to achieve passive income, why isn't everyone creating them?
First of all, you need a strong commitment to building an online course. Writing your material, organising it, film the lessons… All this takes time and discipline.
Then the real struggle is about the limitations in our head.

"I don't have anything to teach."
"I'm not able to talk in front of a camera."
"What if no one likes what I'll do?"
I had all kinds of limiting believes against creating an online course, first of all, I thought my English wasn't good enough to film videos in this language!
The reality is that they're just excuses to prevent us from facing a possible failure.
If you don't try, you'll never know if you were good enough to create a course, and this kind of doubt is a lot worse than a failure.
Take a look inside uDemy, and you'll realise that people who aren't natural speakers have success teaching in any niche.
So why shouldn't you have the same result?
All you need is a camera, a microphone and in case, a screen recording software.
I've put together a PDF with all the tools I use to create my courses, so if you don't know where to start, just use what I'm using!
Download the list below.