Did you get your good amount of rejections from clients?
Does this remind your school days, when no boys or girls even wanted to hold your hand?
I feel you cause I lived both situations, and they're not great.
Well, in this article, I'll teach you my bulletproof technique to reach out to potential clients and convince them to work with you.
If online marketing taught me something, it is to use a different perspective to solve a problem. If a specific method doesn't work, or it's overused, it's a good exercise to find another approach.
Let's talk about reaching out to clients. The vast majority of people online use job boards like LinkedIn or Indeed, to find open positions.
These platforms are great. The only problem is that there's way too much competition for every job request.
It's a lot more efficient to think about who your potential clients could be and look for them on the web. If you're a social media manager, what are the ideal companies that could look for someone like you?
When I started working as a web designer, my ideal clients were brand new startups that created web apps and hopefully got a round of investment to hire new experts.
So I got on crowdfunding platforms like Kickstarter, and I looked for these kinds of startups.
At the same time, I've joined Facebook Groups for companies that needed to pitch their new online tool.
How to Introduce Yourself
The second step is to reach out to those potential clients.
My services were website and web app design, so I've done a profound research on each one of the companies I found interesting.
I've discarded all the great-looking websites, and I kept in considerations just the ugly, outdated ones.
Then I took notes of all the weak spots in their websites and web apps. I spent time analyzing them and creating a detailed analysis.
This step of the process is really important. Companies look for new employees cause they want to solve problems. Sometimes they're not aware of what issues they may have, and in this case, you need to highlight them.
You need to show what's not great about what they have at the moment and propose yourself as a solution. Obviously, you don't want to sound offensive. No one likes a smart ass, especially when he asks to be paid.
The Right Channel to Reach Out
After you have this list of problems, it's time to reach out to your potential clients with an email, a message on LinkedIn, or if you're brave, a video.
If you're in the "brave" group, get a pen and paper cause I'll give you some good advice.
Getting your client's attention is paramount, and what's better than a video to do that?
If you're able to get the client's email address, you can use a tool called Bonjoro.
The idea behind Bonjoro it is really simple, but at the same time really original in those times of automations. You can send a video message to a single person, and the receiver can reply using the platform.
Bonjoro hosts the video and adds a private chat on the same page.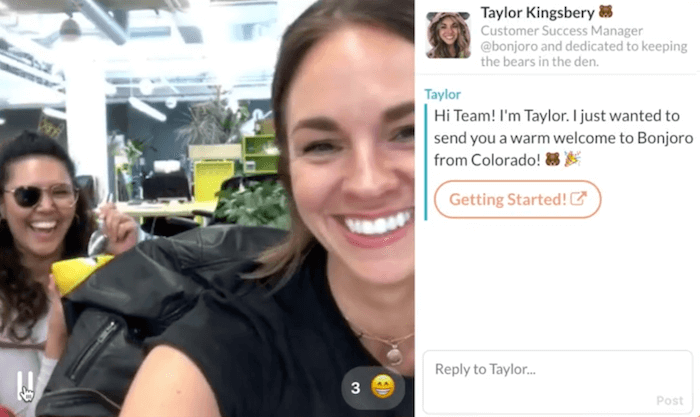 That's a system that can't be scaled, but it's amazing to attract attention and create an immediate bond with your addressee.
Send a video where you address the client by the name, show how much you care about getting in touch with him/her.
Depending on the client, choose a proper tone of voice and attire. In most of the cases, it's better to appear casual and friendly.
If you don't know what to say, I have a present for you. You can download 3 videos I've sent to 3 potential clients, where I discuss the areas I can fix or improve for them. You can see the way I deliver the message, how long are the videos, and so on.
These are real examples, so they'll be priceless for you. You can download them here. 
Why does this system work?
All the clients who responded to my videos told me no one ever sent a video to start a conversation. This approach made me rememberable and original.
Then they appreciated that I'd checked their product and I spent time giving them advice on how to improve it. Companies are so bored of reading the same old introducing letter with previous experiences and a list of skills. All they want is to fix a problem, and if you're the right person to do this, you have a deal.
And by the way, I can assure you that companies will come up with a lot more stuff to work on, apart from what you noticed.
I started addressing websites and web apps, and clients ended up proposing me to work on multiple projects.
So to summarise my technique:
Reach your potential clients directly and not through job boards. Reach them even if they're not looking for anyone.
Find a way to get in touch with them. An email address is what you need.
Send them a video where you address a problem they have and explain why you can fix it. Focus on them, not on yourself.