Growing a list on Facebook Messenger is as essential as growing an email list. But how can you build an engaged list on Messenger quickly? 
If you're here, reading this article, you're already aware of how important it is to build an email list. Email Marketing is probably the most significant pillar in Digital Marketing, but in the last years, Facebook Messenger earned its place.
Why is that?
Mostly cause Messenger isn't a saturated market as email.
Let's do a test.
I want you to check right now your email inbox. How many people sent you an email since this morning?
Now get on Messenger and count how many people messaged you today.
Email Marketing is like taking the central line of the tube here in London at 8 am. You need to fight for your 50cm spot, people don't even notice you, and the smelly guy who's always there is spam.
Why do you need a list on Messenger?
Messenger is an entirely different game. It's not that crowded and way more intimate than email. When you receive a message on Facebook Messenger, you will hardly ignore it.
The average opening rate of a message on Messenger is 80%, and the average click-through-rate is 30%. That means that Messenger marketing is about 10x more effective than email marketing.
All these exciting facts don't mean that Messenger has replaced Email Marketing. Emails are going to stay the best channel to connect with your audience. Your email list is a crucial asset for your business simply because it is truly yours.
Facebook owns your subscribers. If Zuckerberg decides that you won't be able to send offers via Messenger (and you already have limitations to do it), what are you going to do?
So, bottom line, growing and nurturing your email list is the number one target for every online business. But building a Messenger list is essential for the future.
How to Grow a List on Facebook Messenger
In order to make people enter your Messenger List, they need to message you first. That is the first problem to tackle.
How can we make someone write to us on Messenger?
There's a simple way to do that: Email + Story + Survey.
Let's get into details.
I frequently share episodes of my life on the emails I send to my list. I talk about my past, my struggles, my failures. But at the same time, I talk about what I'm going through right now.
My audience wants to learn from me, as well as getting more familiar with me. This connection is fundamental to build an engaged list.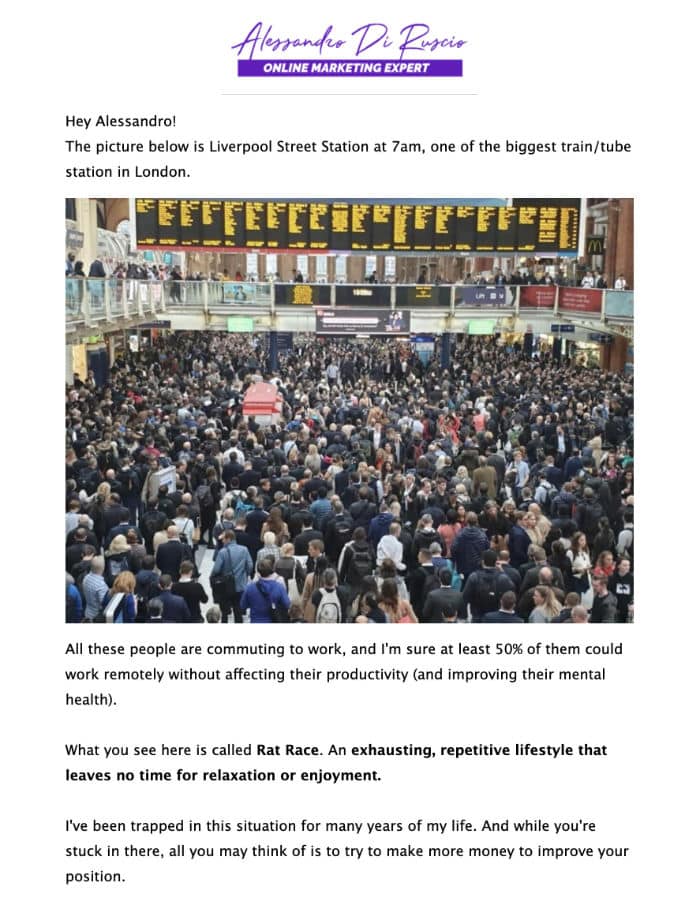 I write about my early story, and all the obstacles I found along the way, trying to create a profitable online business. I'm sure my readers can relate to this topic and find the struggle familiar.
Then, in the end, I pass them the microphone, and I ask about their situation.
When they click on the button "Start the Survey", they'll be redirected to my questionnaire on Messenger.
The secret of making readers engage with your questions is to reduce friction.
If I would ask them to reply to this email writing their story, just a small part of them will do it.
But if I give them predefined answers to choose between, this makes the entire process quicker and easier. All they have to do in this case is click on the right answer.
If you're not familiar with Manychat and how to create a survey with it, I have another article that you can read.
And if you want to try Manychat, you can start for free clicking here.
Align your lists
If you use this procedure now and then, you will align little by little your email list to your Messenger List.
And I don't have to tell you how important it is to reach your subscribers on two different channels.
If you want inspiration on how to create Messenger surveys, I've created a document where you can take a look at 3 surveys I constantly use to:
Know more about my subscribers
Find an idea for an online course
Find out on what my viewers are working at the moment
You can download the doc clicking on the image below.