Is it possible to get clients consistently with a single, well designed, chatbot on Facebook Messenger?
Spoiler alert, Yes. In this article, I'll uncover the sophisticated chatbot I created, that is bringing me clients, every time I run it through my email list and my Messenger List.
If you follow my blog, you already know that I never use Messenger chatbots to promote my coaching service or my products.
I believe that email marketing is the best way to get sales, and chats are just a way to reinforce the connection with your followers.
Another characteristic of my chatbots is that they're super simple. There are no conditional rules, no crossroad flows.
But I have a single chatbot that breaks all these rules. Look at this.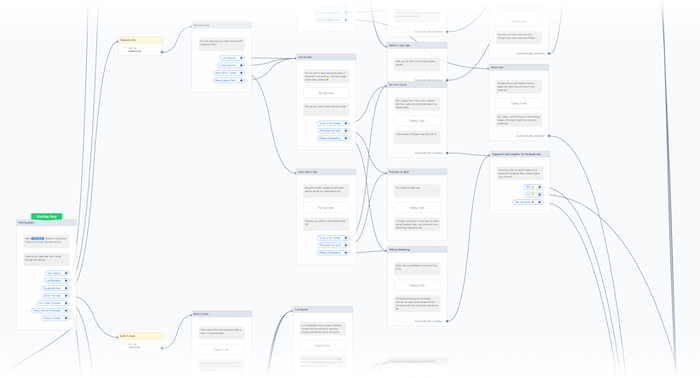 This is just a little piece of it.
This complicated structure chatbot is the secret sauce that provided 90% of my consulting clients.
How it works
I'm a big fan of simplicity, and despite the size of this chatbot, the mechanic behind is pretty simple.
I ask on which area my subscribers are struggling, and then, question by question, I narrow it down to the focal issue, and I offer my help to fix it.
This survey works particularly well for a couple of reasons.
All the answers are pre-set.
The user doesn't have to utilize the keyboard to type anything. Every question has multiple clickable choices, and this reduces the friction drastically.
The survey doesn't feel artificial.
The flow follows a conversational approach, mixing questions and feedback. Every answer is connected to an instant report, before leading to the following question.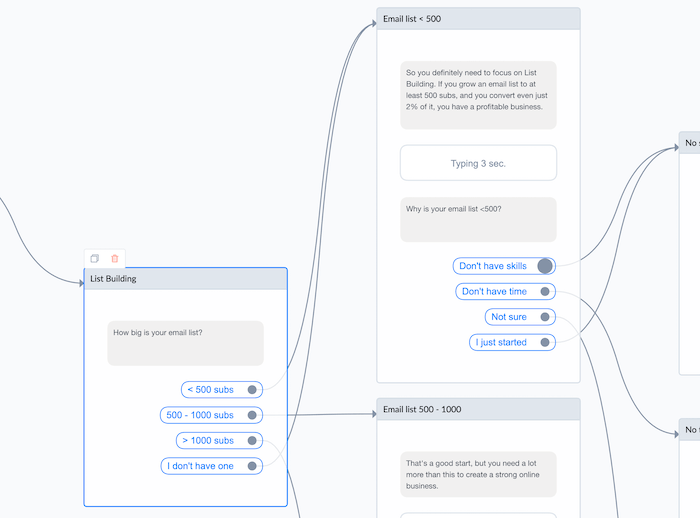 Surveys and quizzes work well cause they tingle our curiosity, and they work even better if they teach us while we proceed.
I saw this same approach in an app called BetterMe.
The Onboarding, after you install the app, drives you through a list of personal questions, and after you choose, the app shows feedback connected to your answer.
Other thing that I do in my Bot, is using tags to segment my audience and then retarget the right user with the proper offer in the future.
A Client Machine
I spent several days building this bot and improving it based on my subscribers' feedback. You can download it using the link below, import it in your Manychat profile, and personalized it.
To make your life even simpler, I've added to the bundle a couple of videos on:
How to integrate this chatbot into your email funnels.
How to personalize the chatbot funnel through your subscribers.
The process to turn them into clients or customers. 
Get the Chatbot bundle here, and let me know how many clients you closed with it.