If you're not affiliating for any product or service, you need to rethink your choice. It's one of the best methods to generate income, but only if you know how to do it.
In this article, I'll show you how to generate revenue, using Elementor to sell external products .
What is an affiliate program?
Simply put, it's a relationship between you and a product provider. The merchant pays you a commission for each new customer you refer.
So why are you still probably not using affiliation?
The biggest reason is ignorance.
Making money with affiliation seems a complicated process, and instead is pretty remunerative and straightforward if you put your head into it.
What do you need Elementor for?
Elementor, like any other website builder on the market, can help you make your promotion juicier.
Let's take a practical example.
I affiliate for a product called eCover Authority.
Amazing product. It helps you create 3D covers for Books, Reports, DVDs…
I use it to create representations of my cheat sheets and checklists on my landing pages.

Even if the product works pretty well, and I suggest it to all my students, take a look at their website.

A disaster! It looks like created with Frontpage! (If you don't know what I'm talking about, it means your disgustingly young)
If I'd send traffic to this page, I'm sure I'll have a low conversion rate. Word of advice guys at eCover!

So I created a smoother landing page to promote the tool, and I've linked the call-to-action button to the purchase page of eCovery.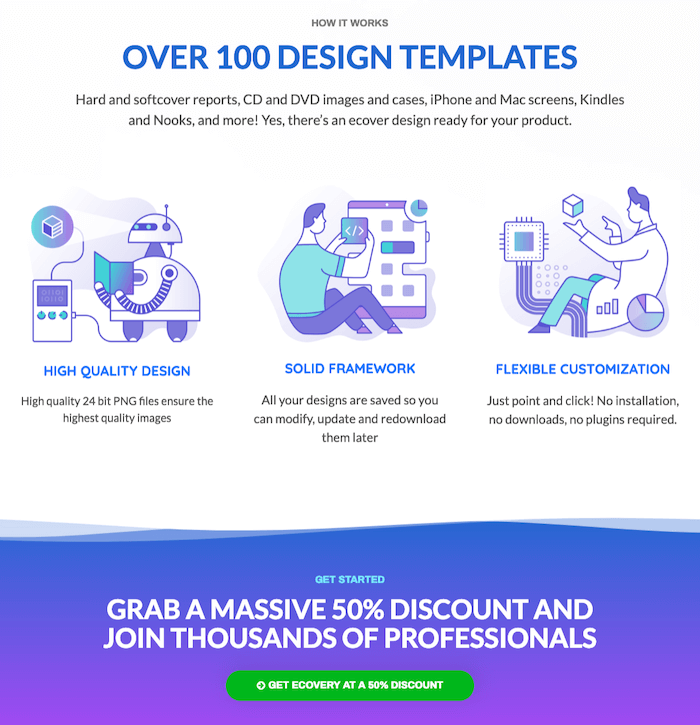 But creating a landing page for affiliate programs is a good idea even if the producer's website looks good. You can personalise the webpage, for example adding a video review of the product.
A few power tips
First of all, promote JUST when you get an offer on the product.
I'm an affiliate for Elementor, and I promote it only when Elementor runs an offer.
The one you can see below is the email that the Elementor team sent me for the Black Friday discount.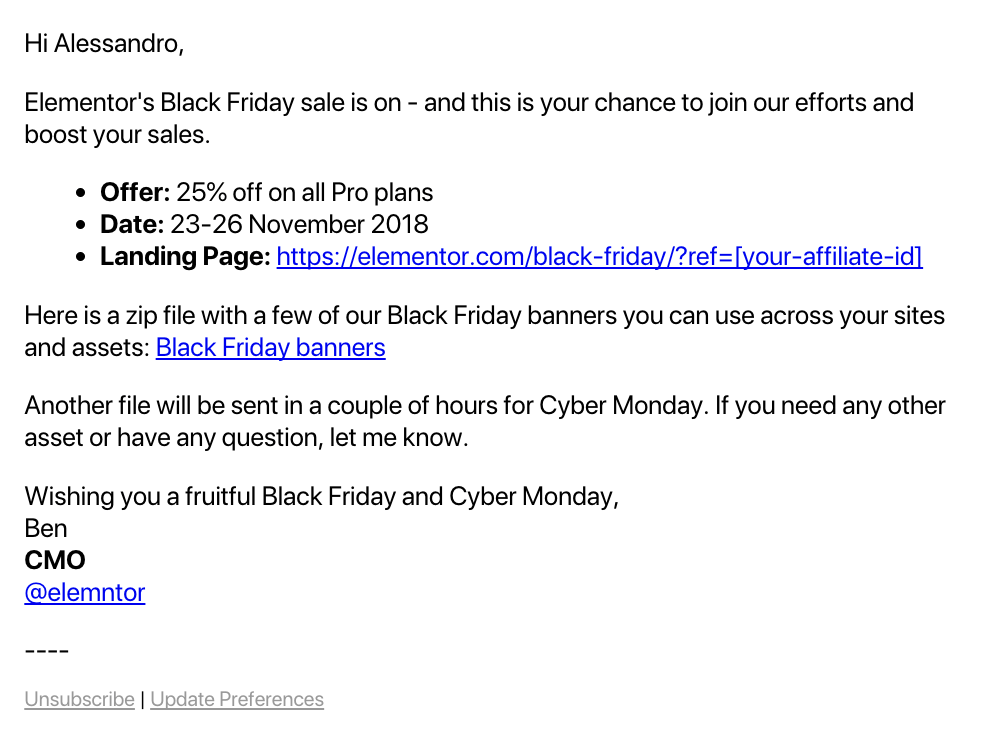 I checked that my landing page was in order, and I promoted to my list!
That's a win-win situation for my subscribers and me.
To stay updated with all the discounts for the tools you'd wish to promote, simply subscribe to their newsletter!
In that way, you'll be the first to know when it's the moment to run an affiliate campaign.
Powertip number 2, is to have an Elementor template you can use on all your promotions.
All the landing pages for the products I affiliate for, share the same template! I just need to replace the placeholders with the right content, and this reduces the production time.
If you want to use my 3 templates for Elementor, you can download them below and personalise them with your products' content.
If you instead don't have Elementor and you're using another builder, I've set a guide with the perfect structure for a landing page. Download the guide below.
If instead, you want to find your own website builder, here the 3 best alternatives to Elementor.
LEADPAGES
CLICKFUNNELS
INSTAPAGE
What about you instead? Are you already affiliating for products or services? If not, what stopped you so far?
Reply in the comments.